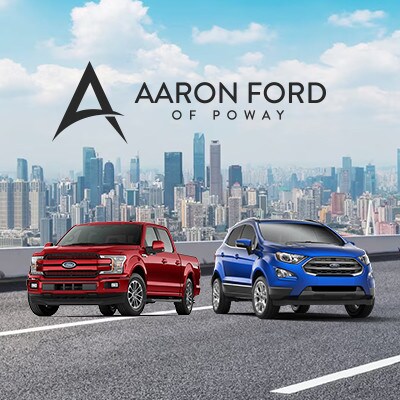 At Aaron Ford of Poway, we understand that financing can be an intimidating process. Our goal is to make this experience as easy and straightforward as possible. We offer many financing options to help you get into a new vehicle without stress. We provide flexible leasing options, auto loans with competitive interest rates, extended service plans, and more to make your purchase affordable regardless of credit score or budgeting restraints. When it comes to financing your vehicle purchase, we proudly customize options specifically designed for you. The knowledgeable finance staff at Aaron Ford of Poway are here to help find the best solution for your personal and financial situation.
Understanding Your Credit Score
Knowing your credit score is essential when financing a vehicle. Good credit can help you get the lowest interest rates on your loan, which means lower monthly payments. If your credit isn't great, it doesn't mean you can't buy a car. Researching lenders and shopping around are two things that can help you find the right terms to approve a loan at an affordable rate. It is also important to remember that improving your credit score will take some time, so understanding the credit score you have currently and what lenders are looking for is key in structuring a loan plan that works for you and fits within your budget.
Improving your credit score before applying for an auto loan means you're in a better position to get the most favorable terms possible. It's important to pay bills on time or in advance, especially those related to credit such as loans and charge accounts. Paying more than the minimum due on any outstanding debt is another helpful step for raising the credit rating. Making regular use of a credit card helps build credit too, but be sure not to exceed 30% of the available limit as any higher utilization rate can cause your score to decrease. Finally, try to avoid bankruptcy at all costs since this would significantly hurt a consumer's credibility with lenders. All these steps contribute greatly towards improving your credit score, so that you have the best chance of securing the lowest interest rates when you finance your next vehicle.
How to Apply for Financing
At Aaron Ford of Poway, we understand that applying for car financing can be daunting. Our experienced finance team is committed to helping you navigate the process in the simplest and most efficient way possible. We can guide you through popular financing programs such as leasing and traditional installment loans, and make sure you get the right financing structure for your budget and lifestyle. To get started on your car financing application, simply visit our website to view our inventory and current financing options. You can then use our online form or contact us directly to fill out your application and begin the approval process. With a few simple steps, you could be driving away in the vehicle of your dreams!
About Aaron Ford of Poway's payment calculator
Aaron Ford of Poway has created an innovative payment calculator to suit the needs of all customers. This calculator is simple, efficient and user-friendly, providing customers with a range of reliable and accurate financial solutions. With customized interest rates and loan terms, customers can easily select options that best meet their individual needs. The calculator also computes monthly payments based on selected criteria, so buyers have all the information needed to make smart decisions about their car purchases. Its accuracy and convenience make this payment calculator an invaluable tool for a stress-free shopping experience.
Why shall you opt for car financing
Get Pre-Approved with the help of Aaron Ford of Poway
Aaron Ford of Poway is the perfect dealership to help you get pre-approved for a car loan. Our expansive knowledge of financial products, coupled with our attentive customer service, gives you an advantage when looking to purchase a vehicle. Aaron Ford of Poway will leverage multiple lenders to make sure you receive the best rate on your car loan available. We take away the guesswork by keeping all pertinent information in one place so it is easy for you to make an informed decision that meets your financial goals. Start your path toward being pre-approved for a car loan today with Aaron Ford of Poway by your side.
Final Thoughts
We hope you consider financing your next Ford vehicle with us here at Aaron Ford of Poway. Our team makes the process easy and stress-free so that you can get on the road in your new car as soon as possible. If you have any questions about the process or our dealership, please don't hesitate to contact us. Thank you for considering Aaron Ford of Poway!