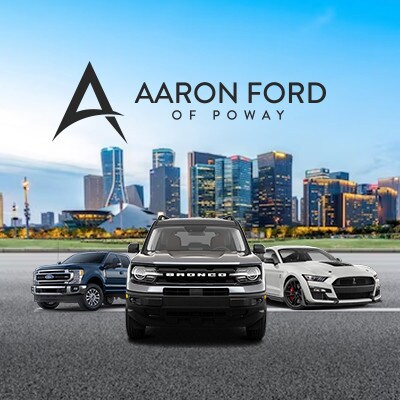 When it comes to buying a new car, the process can be overwhelming and stressful. With so many options available, it can be hard to know where to start. That's why choosing the right dealership is crucial. At Aaron Ford of Poway, we strive to make the car buying process as easy and enjoyable as possible. Here are just a few reasons why you should choose Aaron Ford of Poway for your next car purchase.
Wide Selection of New and Pre-Owned Vehicles
At Aaron Ford of Poway, we have a wide selection of new Ford vehicles, including the latest models of cars, trucks, and SUVs. Our inventory is constantly being updated, so you can be sure that we have the newest models available. We also have a great selection of pre-owned vehicles, all of which have been thoroughly inspected and are in excellent condition. Whether you're looking for a reliable family car or a rugged pickup truck, we have something to suit your needs.
One of the advantages of choosing Aaron Ford of Poway is that we offer a diverse range of Ford vehicles. From the Ford Mustang, which is a sports car, to the Ford Explorer, which is an SUV, we have something for everyone. We also have a range of trucks such as the Ford F-150 and Ford Ranger, which are perfect for those who need a vehicle for work or towing. Furthermore, we have electric and hybrid vehicles, like the Ford Mustang Mach-E, which is perfect for those who want to be environmentally friendly.
Expertise and Experience
Our sales team at Aaron Ford of Poway has years of experience and knowledge about all of Ford's cars. They are trained and certified, so they know everything there is to know about the cars, trucks, and SUVs that we sell. They can help you find the perfect vehicle for your needs and budget. And, if you have any questions about financing or leasing options, our finance team is always available to help.
One of the best things about our sales team is that they are not pushy or aggressive. They understand that buying a new car is a big decision and that each customer has unique needs and preferences. They will take the time to listen to you and help you find the perfect vehicle for you. They will also answer any questions you have about the car, so you know exactly what you are buying.
Exceptional Service
At Aaron Ford of Poway, we pride ourselves on providing exceptional customer service. From the moment you walk through our doors, our friendly and professional staff will make sure you have a pleasant and stress-free experience. We have a customer lounge where you can relax and enjoy a cup of coffee or tea while you wait. We understand that buying a new car can be a big investment, and we want to make sure you feel comfortable and confident in your purchase.
Our service doesn't stop after you drive off the lot. We have a state-of-the-art service center where our certified technicians will take care of all your car's maintenance needs. We use only Ford original equipment manufacturer parts, so you can be sure that your car is getting the best care possible. We also offer a shuttle service, so you can drop your car off for service, and we will take you where you need to go.
Competitive Pricing
We offer competitive pricing on all of our vehicles at Aaron Ford of Poway. We also offer a variety of financing options to help make your purchase more affordable. We work with a variety of banks and credit unions to offer you the best rates and terms possible. And, we regularly have special deals and promotions to help you save even more. We also offer a price match guarantee, so you can be sure you're getting the best deal.
In addition to our competitive pricing, we also offer trade-in options for your current vehicle. Our team will provide you with a fair market value for your trade-in, which can be applied toward the purchase of your new car. This can save you thousands of dollars and make your new car even more affordable.
Convenient Location
Aaron Ford of Poway is located in Poway, CA, making it a convenient spot for customers looking to purchase a Ford vehicle in San Diego County. We're easy to find, and our location is served by a wide range of transportation options, with ample parking available. Plus, our showroom and service center is open seven days a week for your convenience.
In conclusion, Aaron Ford of Poway is the perfect choice for your next car purchase. With a wide selection of new and pre-owned vehicles, expert sales and finance teams, exceptional customer service, competitive pricing, and a convenient location, we have everything you need to find the perfect car for you. Visit us today and experience the Aaron Ford of Poway difference! With all these benefits, the choice of Aaron Ford of Poway is a no-brainer, you won't regret it.